Kitchen trends 2021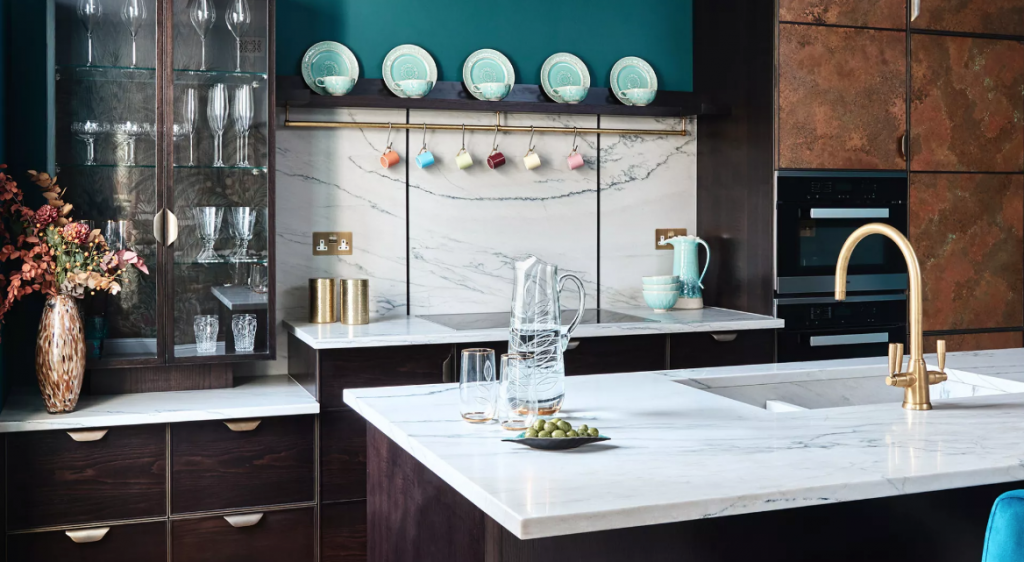 Kitchen trends 2021 – 28 new looks and innovations for cabinets, worktops and more
From cool colors to clever cabinetry, these latest kitchen trends are all bang on trend – but achievable, too.
BY JENNIFER EBERT , ROHINI WAHI
We talked to the trend experts to find out which kitchen trends will be big in 2021.
With cool new kitchen brands popping up and lots of innovative design ideas and clever twists on old appliance designs on display in kitchen showrooms across the country, there are plenty of on-trend looks and state-of-the-art appliances to pick from.
Below, we look at the biggest new looks for kitchens in 2021 – you can find more kitchen ideas on our dedicated page, too.
1. CONCEALED KITCHENS
Small space living gives way to even more kitchen innovation. This chic open-plan space conceals the cooking area with chameleon-like skill, allowing the focus to be on entertaining.
Maximising the feeling of spaciousness by uniting cooking, dining and relaxing into one glorious, light-filled room - here an uninviting and small kitchen was demolished 
in favour of a big living room with the kitchen tucked discreetly at one end.
The layout is flexible so it transitions from a kitchen to a dining room to 
a living area in an effortless way. The cooking space is as invisible as possible, with door panels looking like decorative wall finishings.
All doors are hidden, with fingerprint sensors that allow them to open and close in a smooth a manner.
2. MESH CABINETRY
Bespoke kitchen specialist Davonport has added a burnished wire mesh cupboard door to its design portfolio. Teamed with diamond-cut brass handles, the look makes for a sophisticated twist on industrial style.
3. USING MATERIALS IN SURPRISING WAYS
Theres something free-ing about having a kitchen that doesn't feel 'off the shelf'. Even if some elements like cabinetry and appliances need to be standardised, think about adding character with practical elements sourced elsewhere.
This sink area features a rustic shelf to display pottery and a narrow geometric backsplash made of brass sits behind creating an unusual vignette.
4. BRAVE COLOUR CONTRASTS
Picking two shades on opposite sides of the colour wheel, like pink and green, will achieve bold contrasts. Here the Classic English kitchen by deVOL is painted in a Farrow & Ball green and a custom pink. Prices start from £25,000.
5. A FRESH TAKE ON MID CENTURY
Bright whites contrast with rich timbers and soft curves to lend a modern mid-century flair to contemporary kitchens.
Dark walnut cabinetry works to keep the look simple with smart bespoke detailing. Tall white cabinets and light marble splash-backs and countertops draw the eye up creating an illusion of space, keeping the look fresh and of the moment.
6. THE SINK SKIRT REVIVAL
Once considered outdated and frumpy, the sink skirt is back in fashion creating opportunity for texture and pattern, softening kitchen schemes and adding a touch of nostalgia.
The idea is based around replacing the base cabinet doors underneath the sink with pleated curtains, often suspended on a decorative rod. Here is an opportunity for an element that can be updated often - on trend gingham, tactile untreated linen or pale pink stripes amongst bold colours like Beata Heuman.
7. MARBLE
It's the time of strongly veined marble, the busier the better for unmissable luxury and next-level style. If there's one thing that's storming the style charts and shaking up interiors, it's the return of marble.
As an architect Natalia Miyar has a great passion for materiality and uses the finest, high quality materials in her design schemes. She says 'heavily veined marble is making a significant comeback in the design world and has become synonymous with high-end luxury.' A popular choice for kitchens and bathrooms, it is also highly sustainable; its durability, classic attributes and ability to withstand passing trends makes it a good investment.
Marbles with naturally strong veining add statement value and create a textural contract between other polished surfaces, metals and woods. Within a kitchen, Natalia uses marble to create an elegant bath, an eye-catching sink or a kitchen island.
8. WOOD FINISHES
Out of fashion for a while, wood is now enjoying a bit of a revival. Use subtle-grained ash, paler than oak or walnut, to pick out the warm tones in manmade stone.
9. DARK DRAMA
Often overlooked as purely an 'accent' color, black walls, cabinetry and work surfaces are having something of a moment. Black becomes liveable, luxe and inviting, with textured woods adding rustic, homely charm.
10. COLOR POPS
Throw the rulebook out of the window in favor of unexpected paint-color pairings. Kitchens are rife with color opportunities, from appliances and flooring, to window treatments and cabinets.
Start by deciding how much of permanent commitment you are willing to make. One of easiest and least expensive options is to paint a wall can be easily updated should you tire of it. Choosing color is such a personal experience – in fact no one knows for sure whether we all even see the myriad shades in the same way.
Mark Wilkinson, founder of Mark Wilkinson Furniture, believes that the colors we choose automatically are naturally influenced by current fashions. 'The color in a kitchen – be it on walls or fittings – should last for at least five years, minimum, so try to look beyond immediate trends and choose a color that will keep you feeling good long term,' he advises.
To continue reading visit homesandgardens.com.