35 Breakfast Nook Bench Ideas That Will Cheer Up Your Mornings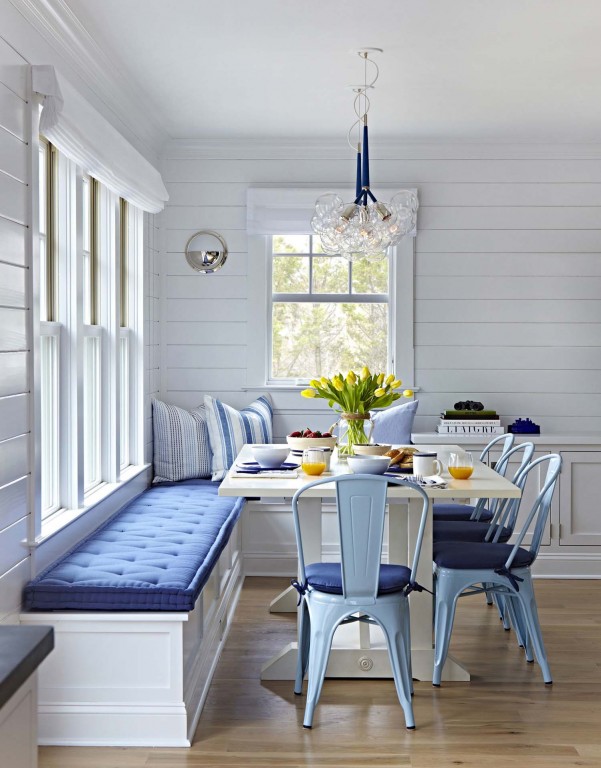 by Casey Watkins
If there is one thing in the world that nearly everyone can agree on, it's a breakfast nook. We can all agree that they are rather a luxury in a home, mostly because if you have a breakfast nook, you likely have a formal dining room as well. We can also agree that breakfast nooks are cozy spaces for everything from morning coffee to afternoon homework sessions. All you need to achieve this space in your home is a table, a bench, and a space in your kitchen to put them. The size of your table usually depends on the size of your kitchen but benches don't have to be the complicated built-ins you'll find in many breakfast nooks. Here are 30 ideas for your breakfast nook bench to help you create your new favorite Sunday morning spot.
1. Thrifted Bench and Table Breakfast Nook

Sometimes a breakfast nook really is as simple as a thrifted bench and a table without a home. Just push them into an empty corner or nook in your kitchen, add a pillow and you're ready to linger with your coffee.
2. Built-in Breakfast Nook

If you truly like the built-in breakfast nook look, go ahead and get out your woodworking skills this weekend. Two simple boxes with cushions on top will fill the corner like they were meant to be there all along.


3. Window Seat Breakfast Nook

Does your kitchen have a window seat? Then you are already halfway there. Find a table that fits perfectly in front of the seat and add some chairs on the other side. You'll create the easiest breakfast nook ever.


4. Catch the Morning Sun in a Bright Breakfast Nook

Bright kitchens are a real favorite for anyone who spends time in theirs. Connect your windows with a long corner bench to catch all that morning sun in your breakfast nook.

5. Upholstered Bench Breakfast Nook


Many breakfast nooks have perfectly fitting cushions for the seats but that isn't required. Go for a completely upholstered bench and your make your nook even more appealing for morning pajama hangs.



6. Make the Most of an Empty Kitchen Corner

You don't absolutely have to have an empty corner to have a breakfast nook. If your kitchen is big enough, you can build it out into the empty space and use your kitchen's square footage better.



7. Simple Stools and Table Breakfast Nook

In a smaller kitchen, it's likely that your breakfast nook protrudes into the natural traffic patterns of the room. If you can't get by on just a bench, add some stools that can be pushed under the table and out of the way when not in use.



8. Low Cabinets for Extra Seating and Storage

Are you lacking in woodworking skills but love the built-in bench look? Install low cabinetry instead. It might require ordering a custom size but it will give you extra seating and extra storage at the same time.



9. Restaurant Booth Breakfast Nook

Benches don't need to line the wall to create a breakfast nook. If you have more adults gathering in your kitchen than little ones, build yours in a restaurant booth fashion for ease of use.



10. Round Table with a Curved Bench

It's a fact that round things bring welcome diversity in rooms full of square shapes. So a round table with a curved bench will make a perfect breakfast nook in your kitchen full of square cabinets.


To continue reading visit www.homedit.com